Need to Fight a Traffic Ticket? Put Strength on Your Side.
Johnson County, Kansas, Traffic Violation Defense Attorney
You see the red lights in your rear view mirror and get that sinking feeling in your stomach. You are not only going to be late reaching your destination, you are going to get a speeding ticket.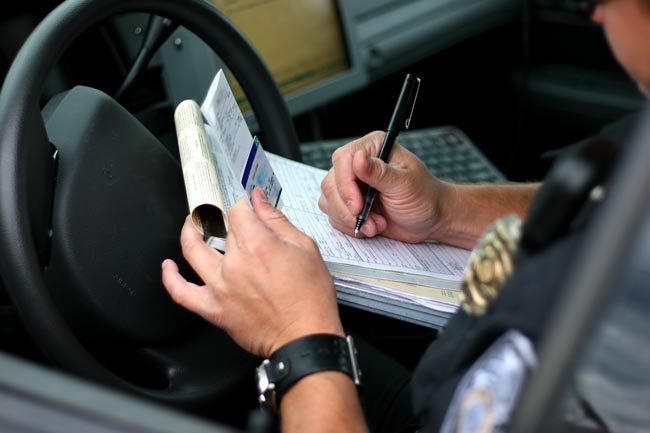 What should you do? You could just pay the fine and hope for better luck next time. What happens if your luck runs out? What if you get another traffic ticket for speeding, driving with no proof of insurance or improper use of lane?
If you receive three traffic citations within a three year period, you will be declared a habitual violator and your license will be suspended for three years. Contact me today to learn why fighting a traffic ticket may be your best option.
Don't Trust Your Luck … Put Strength on Your Side. Call (913) 897-0897.
Fighting a ticket in traffic court can actually be more cost-effective in the long run than simply paying a fine and hoping for the best. Whether you've received a minor traffic ticket for speeding or a vehicular maintenance issue (busted tail light or headlight, for example) or been charged with driving while in violation of restrictions or for road rage, I will work tirelessly to minimize the impact on your driving record and your insurance rates.
Since 1995, I have successfully represented men, women and juvenile clients who understand the long-term importance of fighting traffic tickets. Whether your goal is to get a charge dismissed, to retain your ability to drive, or to stay out of jail, we can help. Please speak to anOverland Park traffic violation lawyer at The Law Office of Kevin E. Dellett today.
Free Initial Consultation ▪ Credit Cards Accepted Se Habla Español
If you need a lawyer who offers assertive representation in all traffic ticket cases, please contact my office in Overland Park for experienced traffic ticket and moving violation defense. We are located just across the street from the Johnson County courthouse. After-hours or weekend appointments can be arranged if necessary. Credit cards and PayPal are accepted for your convenience.